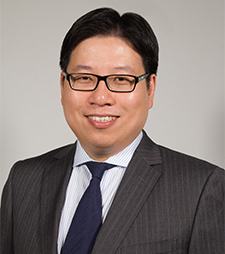 Dr Season Yeung
Dr Season Yeung is a comprehensive ophthalmologist with subspecialty interest in cataract, cornea, and external eye diseases. His areas of clinical expertise include complex cataract surgery, corneal transplantation, sutureless pterygium surgery, minimally invasive glaucoma surgery (MIGS), corneal collagen cross-linking, intraocular injection for neovascular macular degeneration, diabetic macular oedema and retinal vein occlusion.
Dr Yeung completed his undergraduate medical degree at the University of Western Australia. Furthermore, he had successfully completed a Master's degree in corneal immunology at the same institution. He completed his ophthalmology training in New Zealand under the Royal Australian and New Zealand College of Ophthalmologists (RANZCO). Following his training, Dr Yeung undertook a cornea, external diseases, anterior segment and refractive surgery fellowship at the University of Ottawa Eye Institute in Canada, where he had the privilege of collaborating with many worldrenowned ophthalmologists in North America.
Besides his total commitment to patient care, Dr Yeung is also actively involved in clinical research and teaching the next generation of eye specialists. He is a current examiner in both Ophthalmic Science and Ophthalmic Basic Clinical Competencies and Knowledge (OBCK) for the Royal Australian and New Zealand College of Ophthalmologists (RANZCO). In addition, he teaches cataract and corneal surgery to future eye surgeons at Sydney Eye Hospital and Westmead Hospital.
Dr Yeung has published extensively in peer-reviewed literature, and presented at many national and international conferences. Furthermore, Dr Yeung has been awarded with the Lifelong Education for the Ophthalmologist (LEO) award at the American Academy of Ophthalmology 2022 Annual Meeting, which is presented to Academy members in recognition of their ongoing participation in the Academy's education programs and publications.
Dr Yeung has always aimed to provide his patients with the highest possible standard of care, and he has always been committed to clinical and surgical excellence.
Moreover, he advocates effective communication to his patients and their referrers. Dr Yeung is fluent in English, Cantonese and Mandarin.
Dr Yeung consults in our Parramatta and Castle Hill Rooms.