Awards
2018 Syneos Health Site Appreciation Award
Congratulations to Dr Jennifer Arnold and Marsden Eye Specialists Clinical Trials Research team!!
This prestigious award recognises the value of clinical research sites as partners in the clinical research process.
All clinical trials must be conducted with adherence to Good Clinical Practice guidelines and rigorous attention to the quality of patient care and data integrity.  Syneos Health work in partnership with our research department and the Clinical Trial sponsors to ensure that these standards are met.
In making this award, the Syneos Health clinical operations team members made the following comments about our work:
Efficient Study Start-up demonstrated by timely provision of essential documents and ethical board submissions.
High-quality data demonstrated by minimal number of protocol deviations, high-quality data capture and timely query turnaround.
Excellent focus on patient safety demonstrated by proper administration of informed consent, prompt reporting of SAEs, appropriate patient oversight by Principal Investigator
Highly engaged investigator and site staff who are collaborative, responsive and demonstrate strong teamwork and communication.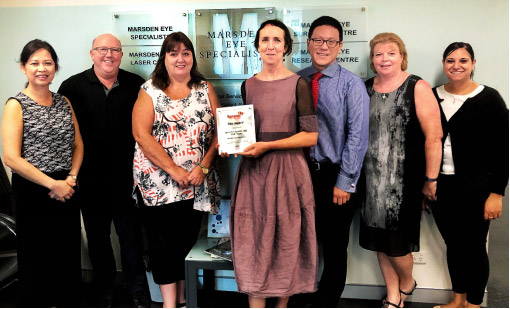 Marsden Eye Specialists Recipient of the 2018 Syneos Health Site Appreciation Award.
(Left to Right:– Anh Nguyen-Marsden Eye Specialists, Trevor Fowles-Syneos Health, Trish Forsyth-Marsden Eye Specialists, Dr Jennifer Arnold (PI) -Marsden Eye Specialists, Dr Derek Chan (Sub Inv.)-Marsden Eye Specialists, Julie Boland-Marsden Eye Specialists, Vivian Ghebrial-Marsden Eye Specialists).
2018 American Academy Ophthalmology (AAO) International Conference Chicago Best Scientific Poster Recipient
Congratulations to Dr Jennifer Arnold!!
2018 RANZCO Trainer of Excellence, voted on by the registrars
Congratulations to Dr Ashish Agar!!
Dr Ashish Agar at Award Ceremony with Dr Kristopher Rallah-Baker (First Indigenous Ophthalmologist)
2017 RAMUS MENTOR AWARD WINNER
Congratulations to Dr Ashish Agar!!
2017 RAMUS MENTOR AWARD WINNER